Rainflower & Tiger's Eye Beads
17th June 2017
Hope you like this new newsletter theme for easy mobile reading.
See us tomorrow, Sunday 18th June at Cornish MrBead Bead Show, Cornish Craft House, Unit 4, Woods Browning Industrial Estate, Respryn Road, Bodmin, PL31 1DQ.
Say your a MrBead Newsletter reader for a free gift!
The next shows after Cornwall will be in London on 1st July and Oxfordshire 2nd July. We will be at over 30 shows this year, all with a bigger display. Click for details: all our 2017 beads fairs.
Orders will be delayed from 13th to 17th June – because we're taking a few days holiday in Cornwall with Bead Buyer just before our Cornish Bead Show. Will be in the Pandoria Inn, Falmouth!
Key FREEPOST in checkout for free shipping on UK orders over £30 at MrBead.co.uk
Or international customers, key RAINFLOWER at checkout for US$6 off all orders over US$30 at MrBead.com before Friday 24th June.
Tweet a link to this newsletter to all your followers – just click here.
Join our 14,000 fans and follow us on Twitter at MrBead@UKMrBead and Nigel at Nigel@NigelMckay
Follow Nigel on his personal site at NigelHayMckay.com
See our beads at MrBead.co.uk or MrBead.com
New Beads
Our shipment of 35 boxes weighing almost 700 kgms has just arrived in Felixstow. You can see many of these hot latest beads at our bead fairs. Over the next few months, we will add some online too.
See all our new beads: Latest Beads
Rain Flower Viewing Stone Beads
Rain flower beads are among our most popular right now, so we have brought a few new designs to feed this trend.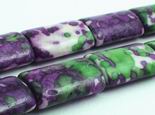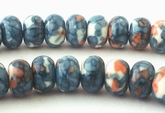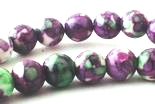 Oriental viewing stones are natural rocks carved to look like a dramatic mountain, waterfall or scenic landscape. The idea is to create a feeling of being at the place that is depicted.
Rain flower viewing stone is natural agate formed along the banks of Chinas Yangtze River over 1.5 million years ago. Its famous in China for its glittering rich colors and lively veins resembling flowers in the rain. Minerals in the rock, like crystal, jade, agate and chalcedony, create the colors. Because of their naturalness, no two of these stones are alike.
Another explanation of their name, also called lucky peace stone, is a Chinese legend from the Southern Dynasties (502-557): when Monk Yunguang read Buddhist texts, Heaven was so moved that it rained flowers!
For our rain flower viewing stone beads click MrBead.co.uk or MrBead.com
Tiger's Eye For Health & Great Jewellery!
What are tiger's eye beads?

Tiger-eye is a type of rutile quartz that reflects light like a reel of silk. Tiger eye beads are polished to show their characteristic stripes of pearly luminescence. These are caused by light reflecting off thin parallel inclusions in the stone. Its name comes from the bands that resemble an eye of a tiger.
Colours range from a rich golden-yellow to dark-brown, as well as red tiger eye.
Benefits of tiger's eye
Tiger-eye is good for those worried about health. It's positive energy builds will-power and inner-strength. Traditionally it has been used to heal wounds, eyes, and the lower legs and feet – as well as for digestion and stomach problems. It's also said to bring spiritual well-being and psychic protection, plus attract beauty and abundance.
Tiger-eye is thought to not only attract wealth, but helps you to keep money by allowing you to consider all factors, like reducing greed or wastefulness. It is also a good gemstone for those tired or under stress, as it relaxes and allows you to clarify thought.
Tiger eye has been used for centuries. Roman soldiers wore it for protection, as they thought the stone looked like it could see more than the human eye.
Similarity to the tiger!

Some say other benefits of tiger-eye, are associated to the tiger. Bringing focus, balance, strength, clear sight, determination, courage and determination. The ideal stone to concentrate on a goal in life. The gemstone can bring you the patience necessary, like a tiger waiting hours before pouncing, to look ahead and plan a project or a new way of life.
Cat's & hawk's eyebeads

Similar stones are cat's-eye and hawk's-eye – all with bands of pearly luminescence creating a supernatural appearance.
Cat's-eye can be yellowish-brown to green with a white band, and is said to bring wealth and pleasure from your children.
Hawk's-eye or falcon's eye has a blue radiance. When a bright light source is directed at the side of the stone, one side of the eye will be milky white and the other remains coloured. When the stone is rotated, the colours switch. It is believed to be very soothing and cool overwhelming sexual passion.
Use in jewellery

These natural type of beads make exciting jewellery. Cat's eye golden brown luminescent bands add mystique to designs made from it, creating a classical African effect. The gemstone is inexpensive and available in all shapes and sizes, faceted, loose beads, and by the strand. However, set in silver or mixed with silver findings, the final effect looks far from cheap.
Astrological sign: For those born under Capricorn, Pisces and Gemini.
To see our Tiger Eye Beads click MrBead.com or MrBead.co.uk
MRBEAD BEAD FAIRS
We will be at over 30 shows this year. Rest of bead fairs and full 2017 Bead Fair List
Exhibit at a MrBead Show
We have limited space available for crafters at some of our own bead shows:
In Cornwall on 18th June at http://mrbead.co.uk/cornishbeadfair.htm
In our Oxfordshire hall on 2nd July at http://www.mrbead.co.uk/oxfordshirebeadfair.htm
Or our Essex Bead Show on Sunday 24th September at http://mrbead.co.uk/essexbeadfair.htm
We market for beaders making jewellery, rather than selling ready-made jewellery – so to attract your customers, you may need to market yourself. However, we're just looking for a small contribution towards costs. If interested, email Nigel at nigel@MrBead.com
Always Free Post on UK Orders Over £30!
For free UK shipping from our bead store enter FREEPOST at the checkout at http://www.MrBead.co.uk
MrBead Newsletter:
See our beads at MrBead.co.uk or MrBead.com