Mother's Day, Making Affordable Jewellery & Rainflower Beads
10 February 2019
Our first bead fair of 2019 will be next weekend at Harrogate Gem n Bead Fair, 16th-17th February.
For details of our shows booked so far this new year click 2019 Bead Fairs.
No snow problem. We'll still be there whatever – and it's warm and dry inside!
Content:
Mother's Day
Making Affordable Jewellery
Rainflower Beads
Early Bead Fairs
Join Newsletter


Tweet a link to this newsletter to all your followers – just click here.
Join our 15,500 fans and follow us on Twitter at MrBead@UKMrBead and Nigel at Nigel@NigelMckay
For our bead shop click MrBead.co.uk or MrBead.com
£5 or US$6 MrBead Discount
£5 or US$6 off all UK orders over £15 (or EU over £20, US $20) at the above stores. Key MOTHER at checkout now, as offer ends Friday 15th February. Cannot be used with any other discount.
When Is Mother's Day?
Mother's Day 2019 in the UK is Sunday 31st March, the day after our London Kilburn Bead Fair. In the US it's Sunday 12th May.
British History

During the 1600's, England celebrated "Mothering Sunday" on the 4th Sunday of Lent (the 40 day period leading up to Easter).
Then, many of the England's poor worked as servants for the wealthy. As most were employed far from their homes, the servants would live at the houses of their employers. On Mothering Sunday the servants had the day off and encouraged to return home and spend the day with their mothers.
Mothering Sunday Around the World

In the United States Mother's Day was first suggested in 1872 by Julia Ward Howe as a day dedicated to peace. Until 1914 when Ana Jarvis, with the help of the church, persuaded President Woodrow Wilson to make the second Sunday of May a national holiday in honor of the anniversary of her mother's death.
However, many countries celebrate Mother's Day at different times throughout the year – except Denmark, Finland, Italy, Turkey, Australia, and Belgium who also celebrate Mother's Day on the second Sunday of May.
Best Present for Mum, Daughters & the Ladies in Your Life
What do you give to Mother? She longs for something special, but already has everything.
The gifts that mean the most, are the ones that have memories attached to them.
Mother's say that every time they receive something special from their children, they remember the exact circumstances for the gift. And one of the most cherished gifts has got to be a charm bracelet.
What would mother like on her special day? Beads of course! Make a special necklace or bracelet as a gift for your mother and mother-in-law this year – or purchase one already made.
Jewellery is always appreciated, and gains sentimental value with age allowing Mother to always remember who it came from. Pearls are great, but any pink or warm-coloured stone jewellery would be appreciated!
Picture is Nigel's mum, 86 years young, at Luton Bead Show.
Making Affordable Jewellery
There's always a market for quality, original gemstone jewellery – but in these tough times, buyers have cut back.
However, your can make great necklaces, bracelets and earrings from less-expensive beads, like shell and glass. Glass pearls look fantastic, but cost very little.
Wooden beads look good too. Cheap to buy, and have the added appeal of being natural. Chip beads are always great value, especially as they are usually in double-length strings which go a long way.

Another way to save making jewellery is to use more findings, like spacer beads. Not only does this save you on expensive gemstone beads, but it gives your design more style.
Rainflower Viewing Stone Beads
Rain flower beads are among our most popular right now, so we have brought a few new designs to feed this trend.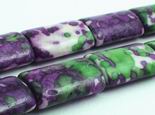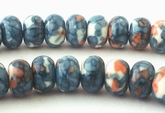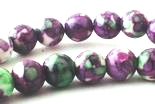 Oriental viewing stones are natural rocks carved to look like a dramatic mountain, waterfall or scenic landscape. The idea is to create a feeling of being at the place that is depicted.
Rain flower viewing stone is natural agate formed along the banks of Chinas Yangtze River over 1.5 million years ago. Its famous in China for its glittering rich colors and lively veins resembling flowers in the rain. Minerals in the rock, like crystal, jade, agate and chalcedony, create the colors. Because of their naturalness, no two of these stones are alike.
Another explanation of their name, also called lucky peace stone, is a Chinese legend from the Southern Dynasties (502-557): when Monk Yunguang read Buddhist texts, Heaven was so moved that it rained flowers!
For our rain flower viewing stone beads click MrBead.co.uk or MrBead.com
Early Bead Fairs
To see all the bead shows we have booked so far click Bead Fairs 2019 – many more yet to add!
See our beads at MrBead.co.uk or MrBead.com
14-Years

of MrBead Newsletters


2005 to 2019
April 2019 is the 14th full year of the MrBead newsletters, and I thank you all for such enthusiastic comments and appreciation. To see the past newsletters click here.
Beading tips, help & design ideas

Free to join!

Established in 2005

Discount vouchers & free shipping

You can change your address or un-subscribe anytime
To see all the original old newsletters click here.
To sign-up for the free newsletters click http://www.mrbead.com/beadnewsletter.htm.
Always Free Post on UK Orders Over £30!

For free UK shipping from our bead store enter FREEPOST at the checkout at http://www.MrBead.co.uk
MrBead Newsletter:
See our beads at MrBead.co.uk or