Aquamarine, Chalcedony For March, & Matte Beads
22nd February 2020
See us this weekend, 22nd-23rd Feb at Harrogate Gem n Bead Fair , or next weekend in London at Kempton Park Gem n Bead Fair. Then we're at Norwich Bead Fair, Sunday 8th March.
Many new beads just imported into the UK!  For bead shows booked so far next year, click 2020 Bead Fairs. 
Content:
Aquamarine Beads For March
Frosted Matte Beads
Chalcedony For Spring Jewellery
Early 2020 Bead Fairs
Beads Up North!
Join Newsletter
Tweet a link to this newsletter to all your followers – just click

here

.
Join our 15,500 fans and follow us on Twitter at

MrBead@UKMrBead

and Nigel at

Nigel@NigelMckay
15%  Off Anything From MrBead
To get the discount off anything in our online stores, Key MATTE at checkout now, as offer ends Friday 28th February 2020. Use at MrBead.co.uk or MrBead.com, but can't be used with any other discount.
New 4mm On Display At All Shows



Aquamarine – March's Gemstone
Aquamarine is March's stone – a blue-green gemstone from South America, meaning Water of the Sea.
Aquamarine lifts spirit, and excellent for meditation, bringing peace and serenity. Use it for your spring jewellery designs.
Folklore says it protects sailors'  and is the treasure of mermaids. The gemstone is also supposed to have powers that reach to land too, helping married couples solve their problems and drive off evil.
Aquamarine is associated with the thymus gland and is very soothing worn as a necklace.
Also thought to help coughs, reduce fluid retention and calm the nerves. The Romans used aquamarine for stomach troubles and believed it could cure liver and throat problems. Aquamarine brings courage, aids quick intellectual response, and protecting the aura.
Colour ranges from a very light turquoise blue to a bluish green. Darker blue colours are the best, greener less valuable. Check the clarity of the stone. Because aquamarine has a light pastel colour, it's important to be free of flaws or inclusions.
Examine the cut from different angles checking light reflects evenly off the surface of the gem, and that there are no scratches.  Aquamarine is usually heat treated and sometimes irradiated. However, it will become paler if left out in the sun.
Clean aquamarine in with warm soapy water and a soft bristle brush. As with all gemstones, protect from scratches and sharp blows.
To see all aquamarine at MrBead.co.uk or MrBead.com
Frosted Matte Beads 
Matte, or frosted beads, have been popular in the US for a while, now the trend has reached the UK. We find matte beads sell fast!
Matte beads give a satin organic character to your jewellery – an extra air of quality. And they feel as soft as they look: content, comforting, and attention grabbing.
Beads are matted the same way nature frosts stones or glass on the sea shore: by weathering. Naturally stones can take decades or even hundreds of years to reach their finish – but we have a trick to speed things up!
MrBead has loads of matte. Most we buy already frosted, but MiMi also mattes shiny beads. The best beads for matting are large agates with lots of stripey character.
She mixes an abrasive compound similar to diamond dust with grit and water in our tumbler, and spins the beads.  The softer stones frost quickly, but many take hours. Then the beads are hand dried and grit poked from the holes. Picture below shows matte beads drying on MiMi's clothes hanger!
Dark banded agates are particularly enhanced this way, with the satin finish looking absolutely magical.
Many frosted online at our category Matte Beads –  but to see our full range of matte beads, visit us at a bead fair new you soon.
Chalcedony 

– Another Stone for Spring Jewe

llery
Chalcedony is an excellent gemstone to use for graceful spring jewellery. Its delicate, silky light-blue colour reminds of early morning mountain sky.

Try making matching chalcedony earrings and a bracelet. Use small beads with subtle silver spacers for style. Sell them in a white or light-blue box.

Romance


Chalcedony is ideal for the lady you love or to use on wedding jewellery. Some people even use chalcedony wedding rings. Set in white gold or silver, it creates just the right look.

What is chalcedony?

Its name is said to come from an ancient Greek town called Chalkedon, which is now in Turkey.
Chalcedony is a fine-grained variety of quartz with a waxy luster and compressed crystals. Because of this structure, it's usually semi-opaque – which creates a soft glow as the light diffuses through the stone. Ideal for graceful jewellery.

The  stone has been carved into ornaments for thousands of years – and in the past, its heavenly blue colour is why it was  called Mecca or St Stephen's stone.

Colour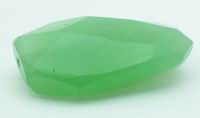 Chalcedony comes in every colour, but for jewellery it's usually light milky blue with a hint of pink. Being porous, it's been dyed blue and pale minty-green for centuries – and today sometimes its colour enhanced to emerald green and even tangerine and peachy pink.

Formation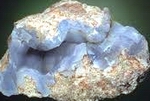 Chalcedony is formed in volcanic rock cavities where silica-rich water flows through. Traces of iron oxide in the water create the pinkish and sometimes red colour.

The gemstone can be seen in the Arizona Desert, where petrified trees have formed from chalcedony replacing the ancient forest. Native Americas there called the stone sacred as they believed it brought stability to the tribe.

Properties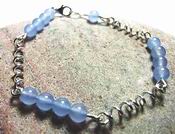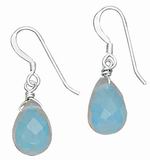 Chalcedony is a feminine stone, full of yin energy. Thought to balance the emotions, bring stamina, and promote kindness and charity.
It's said to be good for love too, as it lowers anger and depression. The gemstone also absorbs negative energy and promotes a feeling of enthusiasm. It is believed to lower blood pressure with its anti-inflammatory properties and heal the lungs, so good for smokers! 

History
Chalcedony was carved into arrowheads, tools, knives, cups and bowls for tens-of-thousands of years. Sailors wore it as a talisman, and it's the birthstone for those born under Sagittarius.                                           
For our chalcedony beads go to MrBead.com or MrBead.co.uk     
15%  Off Anything From MrBead
To get the discount off anything in our online stores, Key MATTE at checkout now, as offer ends Friday 28th February 2020. Use at MrBead.co.uk or MrBead.com, but can't be used with any other discount.
Early 2020 Bead Fairs
Sat & Sun 22nd-23rd Feb: Harrogate Gem n Bead Fair, Pavillions of Harrogate, Great Yorkshire Showground, HG2 8NZ. Full details here.
Sat & Sun 29th Feb-1st March: Kempton Park Gem n Bead Fair, Kempton Park Racecourse, Staines Road East, London TW16 5AQ. Full details here.
Sunday 8th March: Norwich Bead Fair, The George Best Western Hotel, Arlington Lane, Newmarket Road, Norwich, Norfolk NR2 2DA. Full details here.
Sat & Sun 14th-15th March, Brighton Gem n Bead Fair, Brighton Racecourse,

Freshfield Road, 

Brighton

,

 East Sussex BN2 9XZ. Full details here.
Sat & Sat 21st & 22nd March, Cheltenham Gem 'n' Bead Fair, Cheltenham Racecourse, Evesham Rd, Cheltenham GL50 4SH. Full details here.
Shows booked so far next year, click 2020 Bead Fairs.
BEADS UP NORTH!
Bigger show with more exhibitors! Discounted online tickets for Beads Up North. On Sunday 26th April 2020, at Haydock Racecourse. Save £1 buying prebooking tickets now – Tickets Here!
A show not to be be missed, now combined with a new Lace & Textile section. There will be more exhibitors than last year and an extra hall.
However, we do have limited space for a few new exhibitors, but it's booking fast! For details, click the Exhibit tab on the Beads Up North site linked below.
Full details at Beads Up North!
See our beads at MrBead.co.uk or MrBead.com
15-Years

of MrBead Newsletters


2005 to 2020
April 2020 is the 15th full year of the MrBead newsletters, and I thank you all for such enthusiastic comments and appreciation. To see the past newsletters click here.
Beading tips, help & design ideas

Free to join!

Established in 2005

Discount vouchers & free shipping

You can change your address or un-subscribe anytime
To see all the original old newsletters click here.
To sign-up for the free newsletters click http://www.mrbead.com/beadnewsletter.htm.
Always Free Post on UK Orders Over £30!

For free UK shipping from our bead store enter FREEPOST at the checkout at http://www.MrBead.co.uk
MrBead Newsletter:
See our beads at MrBead.co.uk or MrBead.com